There's no holiday quite like a cruise holiday. Whether you're looking for adventure, an opportunity to relax in the sun, or a chance to visit some of the most amazing tourist destinations known to man, cruises are the way to go. They're the only holiday where you can travel, relax and enjoy yourself all at the same time and are subject to some of the best discounts in the travel sector. If you're dreaming of an affordable cruise holiday, we've got the right cruise holidays  for you.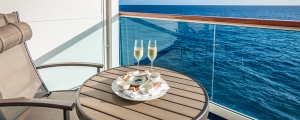 What Makes Cruise Holidays So Special?
If you're looking for a once in a lifetime holiday that will take you to some of the most eye-catching tourist destinations in the world, there's only one way to travel. Cruises are synonymous with comfort, luxury, and spectacular seaside resorts. Travel in style and enjoy all the benefits of high-class accommodation, entertainment, and catering as you do so with one of our cruise ship holidays.
Cruise holidays are an opportunity to enjoy life on-board some of the most impressive vessels ever to take to the ocean. Whether you want to experience the Mediterranean, sail the Caribbean, or visit the great fjords of Scandinavia, cruises are the way to do it. Find your perfect destination now and discover whether there's any incredible cost-cutting deals awaiting you.
Cruise Holiday Deals
We offer deals on a variety of cruises, allowing you to visit your dream holiday destination at a fraction of the usual cost. All of our deals are available for a limited period of time only, so you've got to strike while the iron is hot and take advantage of our fantastic money-saving offers when and where you can.
Our deals change on a regular basis, giving you a good chance of getting a bargain on your preferred holiday destination. While cruise ship packages are usually good value for money, our deals make them even more affordable. If you're looking for a holiday with a difference – where your accommodation doubles as your transportation and all facilities and amenities are within easy reach – our deals make a cruise ship holiday your best option.
Save Money on your Next Cruise
Our cruise holidays come in a number of shapes and sizes. Whether you're receiving money off an all inclusive package, getting a deal on a accommodation or booking fly cruise holidays, you'll be saving a considerable amount of money by booking with us. Few companies are able to offer the kind of money-off offers we provide on a regular basis, so keep your eyes open and your ear to the ground for our next top deal.
You never know when your ideal holiday package may pop up, so it's important that you stay in close contact and regularly check our updates. You could save a considerable amount of money on your next holiday if you make sure you stay up to date and keep your eyes peeled.
Share your Deals on Social Media
Some holidays just aren't as fun without friends and families. Make sure your nearest and dearest can join you on your fantastic cruise holiday by publicising your perfect holiday on social media. Whether it's Facebook, Twitter, or Instagram, you can quickly and easily share your best offers with friends, family, and followers.
Our website is designed for ease of use and social media integration is intuitive and simple. We also encourage social media sharing by offering incentives to those who spread the word about our amazing cruise ship deals.
Worldwide Destinations
Our cruise holidays cover a wide range of destinations around the globe. If you can reach it by boat, we'll probably take you there. Whether you prefer the tropical climes and white sand of beach holidays in the Caribbean, an island hopping adventure that covers the ancient cultures of the Mediterranean, or a picturesque exploration of the incredible landscapes of the Scandinavian fjords, there's a cruise suited to you.
We try to ensure that our money-off offers cover a diverse array of holiday destinations, giving you the chance to book yourself on a cruise to your dream holiday hotspot. This means updating our offers on a regular basis.
Cruise Deals Updated Daily
Our cruise ship deals are updated on a daily basis, meaning you've got to be on the ball to get the best possible price. By regularly changing our offers, we can deliver bargain after bargain and ensure you always get value for money. It also means there's a better chance of your holiday destination of choice being selected as our offer of the day. One of the most appealing aspects of our cruise ship holiday deal programme is the speed with which we rotate through our offers. Come back every day and you'll find something new to surprise you.
Check Out Our Unique TV Channel
In order to ensure that our offers receive maximum exposure and reach as many people as possible, we've established our own cruise TV channel. Brimming with exciting holiday programming that covers both our thrilling destinations and life on board majestic cruise liners, it's an opportunity to get a real feel for what a cruise ship holiday is really like.
You can tune in at any time to catch a glimpse of popular tourist cities – such as Venice, Barcelona, and Havana – explore the inside of a cruise ship and see how you can book your next holiday. Our one of a kind TV channel is an interesting and arresting look at what you could experience should you book your next cruise ship holiday with us.
Why choose Vision Cruise?
As one of the leading providers of cruise ship holiday discounts, we know how to strike a bargain. If you're looking for an affordable and exciting way to explore the world via cruise liner, there's no better way than booking a holiday with us. With new offers posted every day, you're sure to find a deal that suits you. To get your dream cruise ship holiday at a discount rate, check out our website, social media, or TV channel for all our latest offers.
We'll see you onboard soon.