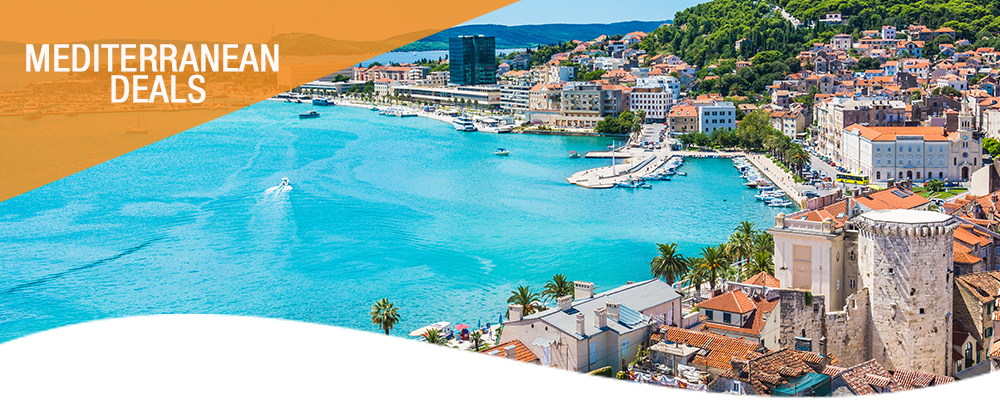 The Mediterranean is one of our most popular cruise holiday destinations. With amazing cities to discover and breath-taking scenery you will always find something new.
The weather during the cruise season generally ranges between warm and hot, with the days being long and generally sunny. Ports in the North of Europe are usually slightly cooler than the Mediterranean ports. Be sure to pack a jacket if you plan on travelling the north!
Choose From our Mediterranean Cruises
The Mediterranean offers a wide variety of itineraries to choose from. Main ports of call include Barcelona, Monte Carlo, Rome (Civitavecchia), Venice, Athens and Istanbul.
The main decision you have to make is whether to take a Mediterranean cruise which visits the East or the West. Eastern cruises take in Italy, Greece, Turkey and the Adriatic, with Western cruises focusing on the west coast of Italy, France, Spain, and North Africa including the Atlantic coast of Morocco and the Canary Islands. Unable to make the choice? Then why not go for one of the extended cruises which are available, these visit both Eastern and Western Mediterranean Ports.
Why not add a selection of our last minute cruise deals to your favourites list? This will allow you to easily compare prices and itineraries of different cruises. Once you have complied your list you can even send it to friends or family by email, or share it with your followers on Facebook or Twitter. Simply click the heart icon next to a cruise to add it to your favourites. Then use the "view my favourites" tab on the right hand side of the page to see your full list.
Looking for Mediterranean cruise deals? Vision Cruise offer a wide selection of Mediterranean cruise holidays from all the major cruise lines to a wide selection of destinations.