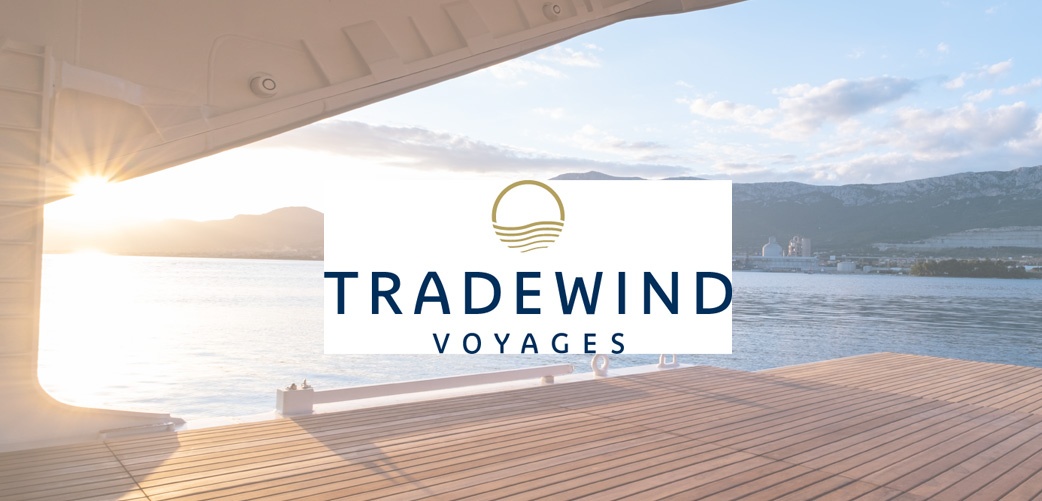 See below our four part blog series for Tradewind Voyages, we will dive deep into this brand new cruise line to give you all in the information & inside knowledge to help you to picture yourself onboard Golden Horizon & enjoying one of their unique voyages.
Blog 1: An Introduction
Tradewind Voyages – An Introduction
See the world – and experience the sea – in a different way with Tradewind Voyages.
As a new cruise line Tradewind Voyages have set out to stand a deck above the rest. Their philosophy is all about the ocean's journey, letting the waves & wind define their course. Their first ship, Golden Horizon, is the largest square-rigged sailing ship in the world & is powered mostly by the sails as they follow the sun around the world. Once you step onboard be prepared to discover a new found freedom and time to take in the beauty of some incredible destinations.
Ever wanted to step onboard the largest square-rigged sailing ship in the world? Well now is your chance, Tradewind Voyages have not missed anything out when it comes to luxury & uniqueness. Golden Horizon is ready to open her sails and let you really discover unique destinations. Their first ship is based on France II, a legendary square-rigged tall ship built in 1913. They have taken inspiration from history's Tea Clippers, and of course, added their own contemporary twist to it. If you're holiday checklist includes incredible dining, elegant accommodation (all with a sea view, of course), and the most luxurious onboard experiences, then its ticks all round with Tradewind Voyages. And if you're worries about health & safety then there is no need to be. With their open decks, small guest numbers & visits to remote locations social distancing is high priority. When you book a voyage with Tradewind Voyages here's what you can expect to be included:
– All Meals
– Selected wines & beers during meal times in the main restaurant
– Gratuities
– Coffee, tea and soft drinks, including water
– Wi-Fi access
– Daytime and evening entertainment
– Marina sports activities
– Access to the gym, sauna, snow room and hammam
Now you've had a quick introduction to who Tradewind Voyages are it's time to look closer at their very first ship, Golden Horizon. With 140 cabins & only 272 guests you really do get an intimate feel when onboard, there are three different types of cabins onboard. And with such a strong connection to the ocean, Tradewind Voyages thought that it would be best to give every cabin a sea view. First up is their 'Cabin' grade, the lowest grade of accommodation available onboard Golden Horizon but still maintaining their luxurious feel. Next is the 'Deluxe Balcony Stateroom' offering you a little bit more space & your very own private balcony to really take in the incredible views. These cabins include a sofa bed to sleep a 3rd adult or two children, as well as 24 hour room service, complimentary mini-bar & more. Finally if you want luxury upon luxury, we have the 'Owners Suite', with its own living and dining area you wouldn't have to leave your cabin (although looking at the rest of the ship, we're sure you will). Also boasting two bathrooms, a walk-in wardrobe and concierge service, we're thinking about moving in permanently! With the owner's suite comes even more perks, in the form of a complimentary mini-bar and full bottle liquor set up, daily canapes, complimentary laundry services and much more.
Moving onto the rest of the ship and taking a quick glance at what amenities this ship has to offer. With three swimming pools on board you can take a dip without feeling crowded, these pools includes a deep dive pool where you can practice your scuba skills ready for when you're docked. We can't not mention the spa area, if you're looking for a relaxing day where you can just switch off and not have a care in the world; this is the place for you. Also all the salon services you could want, so get ready to be pampered for a night on the town (or just one of the 5 bars onboard). Feeling adventurous? Then head over to the marina, located at the stern of the ship, offering the opportunity for kayaking, swimming and snorkelling. If you like to get your nose in a good book whilst you're on holiday then we'll probably find you in the onboard library, or if you like to unwind in a different way then starting the day with a yoga or fitness class maybe more your style.
Now you've painted a picture of where you will spend most of your time onboard, let's move onto the incredible destinations Golden Horizon is set to visit. Kicking off her sailings with Voyages from the UK, you can discover Scotland's historic castles and glistening locks, or photograph Cornwall's wild and glorious sandy beaches. Also taking in the breath-taking Norwegian Fjords, departing Harwich you can join Golden Horizon on a picture-perfect journey visiting ports such as Stavanger, Bergen and Haugesund. Uncover Denmark's history when visiting Copenhagen, a city of castles, canals and palaces, carry on exploring when you visit Aalborg, step back in time as you explore this 15th century city with its cobbled streets and colourful crooked houses.
Following Mother Nature onto the Maritime Silk Route, Golden Horizon will follow the Sun south and cruise the coastlines of France, Spain & Portugal & entering the Mediterranean through the Straights of Gibraltar. If you're onboard at this time expect to visit classic ports in Southern Spain & Italy before returning to her birth place in Croatia. Setting sail in Split you can experience island hopping in Greece, wander Moroccan cities and take in dazzling beaches and idyllic coastal towns in Italy. Ending her Mediterranean journey by sailing the blue-green Adriatic Sea, through the Suez Canal and ending up in Sharm El Sheikh.
After taking in some unique and remote destinations through the Mediterranean, Middle East & Asia, Golden Horizon will finally end up in Australia. Join Tradewind Voyages for a circumnavigation of Australia, or just choose a section of the journey that excites you most. From diving in the Great Barrier Reef, spending Christmas Day on the most incredible beaches you will ever lay your eyes on in the Whitsundays, and taking wild walks in search of the local wildlife, this journey is a once in a lifetime adventure.
Tradewind Voyages are currently on sale for 2021 & 2022, if you would like more information on sailings or prices then please give us a call on 0800 655 6601 or chat to our cruise experts using our live chat system.
All sailings departing overseas ports can be packaged with flights, hotels & transfers. Just make sure to mention this option when speaking to one of our friendly cruise experts.
Blog 2: A Day Onboard
Tradewind Voyages – A Day Onboard
As you stand on Golden Horizon's sprawling wooden top deck you will feel the movement of the ship & current beneath your feet, not being able to take your eyes off the unbelievable views. The waves perfectly catch the light and your heart races with excitement as you spot dolphins riding the waves with you in the water below. Have we caught your attention yet? This is just one small snippet of what your days will be like when onboard Golden Horizon.
Of course everyone will have a uniquely different day depending on how you like to spend your time when on holiday so feel free to imagine your days as you wish!
Morning
Waking up in your cabin starts the day perfectly, with each cabin onboard Golden Horizon having an ocean view, why not leave the curtains open while you sleep and wake up naturally with the sunrise. Once you're eyes aren't so blurry and you've had a quick peek outside, pick up the daily programme and see what the day has in store. Head up to the Upper Deck and start the day with a yoga or fitness class, we've heard t'ai chi can really start the day right. After your morning workout it's time for a quick shower and then to breakfast. If you're more of a late riser and don't believe in alarm clocks on holiday then why not take advantage of the 24 hour complimentary room service and have a lazy breakfast in bed.
Once you're fuelled up on some incredible food it's time to carry on with your day. When in dock or at anchor the marina will be opened, so if you fancy sailing or trying out some of the other water sports then this is your chance. If not you'll be able to step ashore and explore all your port of call has to offer. With the vast amount of space and small guest numbers, some days it will feel like you've got the deck all to yourself. So spend some time by the pool in the sunshine or if you're feeling like a treat then take yourself below deck for a rejuvenating massage in the onboard spa.
Afternoon
After exploring some of the most unique and remote locations you'll come back onboard looking for some lunch, order what you like from either the Horizon Bar or Dining Room, or even go for a tasty pasta salad bowl on the Upper Deck and enjoy your lunch with a view. Take another look at the daily programme, there may be a quiz to play or an afternoon fitness class to join in on. If this doesn't sound like your kind of afternoon then relax by the pool under a cloudless sky or retreat to the library and get your head stuck in a good book and possibly an afternoon nap. If you're heading to somewhere extra special you can always speak to the Tradewind Voyages team and plan an excursion to really make the most of your port of call.
If you're looking to learn whilst onboard Golden Horizon then you're in luck. There will be experts onboard to teach you about Maritime History, astronomy and geography. Or if any of this doesn't sound like it makes your perfect holiday then speak to the outstanding team onboard Golden Horizon, they will be on hand to arrange optional activities such as wine tasting (yum!) to watching a movie under the stars.
Evening
The team at Tradewind Voyages never want your onboard experience to be too formal, so you don't have to go over board when trying to pack for your evening attire! After an adventure filled day we bet you can't wait to sit down for a meal that's bound to tantalise your taste-buds. But first, kick off your evening with cocktail hour, listening to dramatic music and catching up on the day. After drinks head over to dinner in the elegant dining room, listening to their pianist and singer, or head up on deck for a more casual meal watching the sunset. Or if you really want you can enjoy dinner with a front-view of the ocean on your own private balcony. The menus onboard Golden Horizon are full of 'eat well, be well' recommendations, so cuisine with a healthy and sustainable focus sits alongside classic favourites, with great options for vegans and vegetarians too. Not only this but the chefs onboard source the freshest local ingredients, so you can get a real taste of the region you're sailing through.
Anyway enough about the food, let's move onto after dinner entertainment. Whilst you decide what your plan is for the rest of the evening why not have a drink at the Piano Bar. Maybe watch a game show at the Horizon Bar, or catching up with new friends over a whisky at Debeljak's Bar. Dance to the sound of the talented musicians or just sit on the Upper Deck and star gaze, learn about the night sky during a star-gazing lecture, or just try and find the constellations for yourself.
At the end of the night you can even pre-order breakfast to be delivered to your cabin in the morning (which we would highly recommend for a sunrise eggs benedict!)
If we haven't sold Golden Horizon to you with our typical day onboard then we don't know what will, apart from getting you onboard ourselves! Find more information & sailings HERE
Blog 3: Cooking up a Storm
Tradewind Voyages – Cooking up a Storm
As soon as you step into the spectacular dining room on board Golden Horizon you will be transported to a world of outstanding food experiences. Let's set the scene, a breath-taking central skylight lets the natural light flood the whole dining room with wrought iron balconies sweeping towards it. Incredible maritime art hanging from the wood panelled walls, making for interesting dinner conversations. Friendly staff ensuring impeccable service for an elegant dining experience on the world's largest square rigged sailing ship. Now if that doesn't make you want to be on board (even just for the food), then we don't know what will.
At Tradewind Voyages they aim to offer outstanding food and service, always. Their on board dining experience offers something for everyone, no matter what your tastes and preferences may be.  Including healthy eating, sustainability and wellbeing. As we know there are classic staple dishes that are available on board all cruise lines (we're looking at you French Onion Soup!), Golden Horizon will be no different, offering classic dishes & aiming to use local fresh produce where they can to make their menus relevant to the region they are sailing through.
You will be able to grab a seat in the main dining room for breakfast, lunch and dinner, with traditional and light options always available throughout the day. Golden Horizon's buffet selection is something not to be overlooked, with selections specifically designed to ensure that the most stringent health and safety standards are met. The main event is, and will always be, their full-service dinner, with two levels filled with hungry guests ready to experience their amazing cuisine. Not only will you get incredible food, but a selection of wines and beers will be complimentary during meal hours in the main dining room for lunch and dinner.
We are on holiday and they haven't forgotten about all of you that just like to sit back and relax all day every day whilst onboard and aren't too fussed about the main dining room experience, therefore Tradewind Voyages offer  24 hour complimentary room service so you can have a lazy breakfast in bed or if you're lucky enough to have a balcony then why not sit out and gaze out to sea whilst enjoying your eggs benedict. If the sea breeze is calling your name then you can always head to the open air Horizon Bar for lunch in the sunshine, and not forgetting our favourite part, sneaking a treat from their late afternoon 'Deck Delights' trolley service! (Mmmm cake!)
Montreal based head chef Derek Allen will be in charge of all the dished on board Golden Horizon, he has said he was excited to be tasked with bringing the Tradewind Voyages' dining philosophy of 'Eat Well, Be Well' to life. Here is what else he has had to say about being the main man in charge of the impeccable dining experience on board Golden Horizon.
"I'm building a nice rotation of menus, where we will offer a great variety and some local dishes, depending on where we are.
"There will be a lot of fresh produce bought from local markets and we'll make the sauces from scratch," he said.  "We can offer healthy food that tastes fantastic and we'll do things that are a bit different."
An example of a classic dish with a modern twist will be Allen's Beef Wellington with truffle puree and sauteed chanterelles.
"We'll also make sure the dish is designed in a beautiful way!" he said.
Allen appreciates that people on holiday will occasionally want to indulge themselves and an example of one of his 'naughty but nice' dishes will be a white sponge-cake with blueberry mousse and white chocolate shavings.
There will be a wide choice to cater for all tastes and diets, and although Allen will have 19 chefs to assist him, he will be very much hands-on in the kitchen.
"I love to train and teach, but my passion is cooking," he said.
Allen turns 40 in January and has a wealth of experience working for major hotel brands and cruise lines.  His CV also includes a stint as chef at Six Senses, Zighy Bay resort in Oman.
Celebrity chef Marco-Pierre White was a big influence on him as the two worked together on another ship.
"He can be a bit crazy but he is just such a brilliant chef.  I had total respect for him and I learnt so much working with him."
A visit to Croatia to see Golden Horizon convinced Allen to take up the challenge of being its head chef as his next career move.
"It was like nothing I'd seen before, such a beautiful tall ship," he said.  The décor is so elegant and the dining room is spectacular.  I knew this was the place where I wanted to work."
Allen is very supportive of the Tradewind Voyages philosophy of treating everybody equally, as part of a team.
"When I first started working on a cruise ship, you might get a chef throwing an egg at you if he was unhappy with something.  But those days are gone and I have a very different approach.  I want any of our team to be able to ask me anything and we work together to create the best dishes for the customers."
In his spare time, Allen likes to keep fit through weight training and running, to have the energy to work long hours as required in the job.
"When I'm working, I often don't get to eat a meal, but I do lots of tasting to make sure the food is right and the calories can add up for me.
"So, the training helps to keep me in shape and gives me more energy to work.  Passengers may well see me jogging around a port when I have the time for a break.