Princess Cruises – 23/24 Summer Launch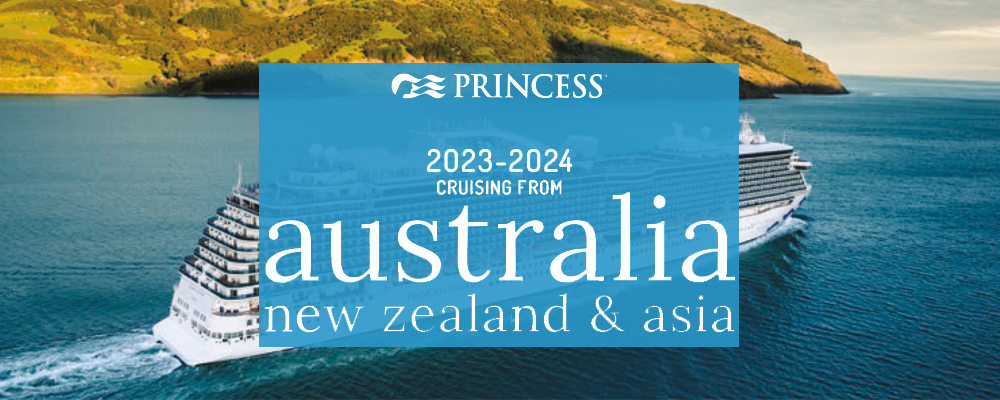 Princess Cruises are pleased to announce the launch of their 2023-2024 Summer and 2024 World Cruise programs.
2023-2024 Summer Highlights
4 ships: Coral Princess, Grand Princess, Royal Princess, Majestic Princess
The season includes departures from six Australia and New Zealand homeports including Sydney, Melbourne, Brisbane, Perth (Fremantle), Adelaide and Auckland
The Australia 2023-24 program includes four ships sailing on 113 departures of 73 unique itineraries with 78 destinations in 18 countries
Access the Great Barrier Reef on the Queensland itineraries roundtrip from Sydney, Melbourne, Adelaide or Brisbane from 7 to 18 nights
Circumnavigate Australia roundtrip from either Sydney or Brisbane on Round Australia voyages
Explore New Zealand on roundtrip voyages from 5 to 20 nights
Explore the South Pacific including sailings to New Caledonia, Vanuatu, Papua New Guinea, Fiji and Tahiti on voyages ranging from 13 to 35 nights
2024 World Cruise Highlights
Announcing Coral Princess 2024 World Cruise, one of their longest ever Australia based World cruise, sailing roundtrip from Sydney, Brisbane and Auckland for a total of 110 nights departing in April 2024.
110 night circumnavigation of the globe features top rated ports, including popular destination visits to Scandinavia, Russia, Iceland, South America and transits through the historic Panama Canal
Coral Princess will visit 47 destinations in 32 countries including overnight stays in St. Petersburg, New York and Lima (Callao)
Spend more time ashore with 8 late night stays including Barcelona, Berlin (Warnemunde), Boston, Copenhagen and Tahiti (Papeete)
Access to over 27 UNESCO World Heritage Sites, including Old and New Towns of Edinburgh, Lines and Geoglyphs of Nasca and Pampas de Jumana (Pisco) and The State of Liberty (New York) and Rapa Nui National Park (Easter Island)
Visit seven maiden calls for the Australian World Cruise including Aarhus, Crete (Heraklion) and Edinburgh (South Queensferry)
Pre-Register your information below to be the first to access all the latest information on all of the 23-24 launch details as well as the 2024 World Cruise onboard Coral Princess.