P&O Cruises – Holidays as varied as you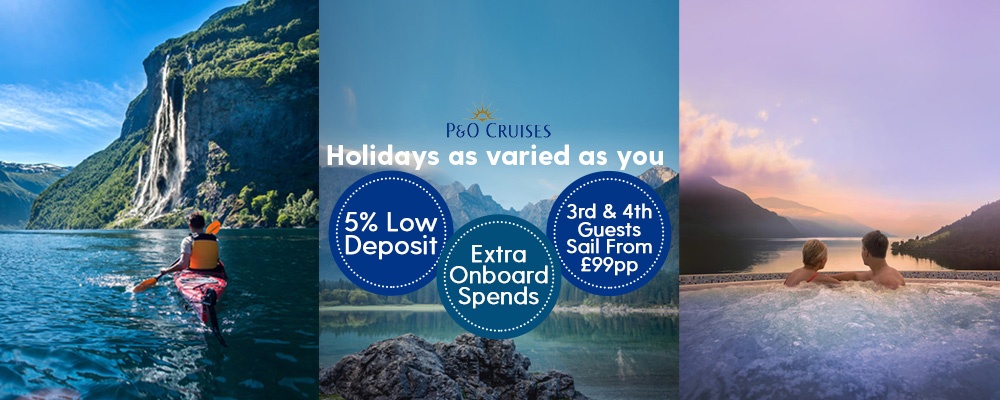 A Holiday as Varied as You
Which version of you fancies a holiday? The explorer of ancient temples? The foodie, ready to be gobsmacked by a surf 'n turf special with lashings of bubbly?! The adventurer, gallivanting along a scenic mountain trail? Or the you that simply isn't getting
out of bed until midday…or perhaps you want it all? You're on holiday after all.
P&O Cruises has got it covered, whichever you wakes up in the morning, having spent many years evolving and perfecting holidays that meet your every whim, want and wish. And as Britain's favourite cruise line, they understand their British guests like nobody
else, recognising everyone's all different – often from one day to the next. Let P&O Cruises take care of everything and you can trust them to get it right every time. Whether you venture ashore or explore life on board, they'll be proud to give you a holiday
that'll knock your socks off.
Book between 15th December 2020 – 1st March 2021 and receive:
– 5% Low Deposit on applicable Select Price & Early Saver holidays of 19 nights & less
– Extra onboard spending money on applicable Select Price holidays (Seaview cabins & above)
– Extra guests sail from £99pp on applicable Select Price Holidays. Sailings from £99pp is applicable to off-peak cruises sailing from/to Southampton for 6-10 nights
– Free flexible transfers. Transfer your Select Price or Early Saver booking as many times as you'd like, free of charge, up to the date the balance for your holiday is due.