Fred. Olsen Cruise Lines – Welcome Back Cruises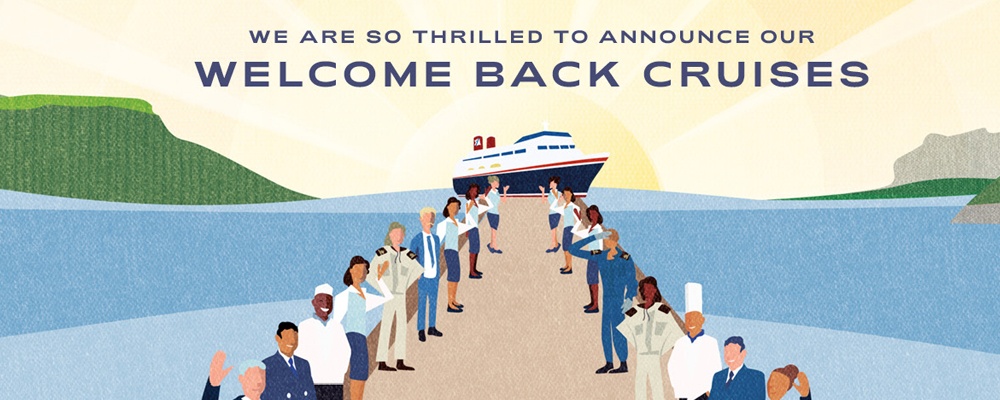 Fred. Olsen Cruise Lines are returning to the water in July and for this momentous occasion they have hand-crafted a special suite of new itineraries to make sure that the experience is welcoming, safe, gentle and relaxing.
Their welcome back cruises include maiden voyages for their new ships, UK focused destinations and non-stop coastal voyages of the British Isles, Norway and beyond.
Each cruise is short and sweet at between three and seven nights – the perfect way for you to dip your toe back in the water, with their signature scenic cruising front and centre as well as wildlife experts ORCA onboard their maiden voyage and non-stop voyages.
Cruises on sale for Oceans members 17th March 2021 @ 9am
Cruises on General sale 18th March 2021 @ 9am
These sailings will benefit from up to £100 per person onboard spends.
Risk Free Deposits
Book any cruise currently on sale and you can change your mind and move your deposit to another cruise within 12 months of your original sailing with no transfer fees. Just let us know no later than when your final balance, or interim payment is due. Applicable to all bookings for 2021, 2022 & 2023 cruises.
For guests who booked after October 2020 and are planning to sail in 2021, you can also opt to have a full refund on your deposit if you decide not to travel (again, just let us know before your final balance is due).
Transfer on your Terms
If you cannot travel due to testing positive for COVID-19, we will transfer your cruise or give you a sailing credit.
There will be no administration fees and you can choose any cruise within 12 months of your original sailing date.
No quibble refunds
We are very sorry if your cruise with us is cancelled.
Whilst we would love it if you transferred to another, you can of course have a full refund, with no quibbles, at any time. 
Safe Sailing Charter
Before your cruise
Plain sailing guarantee updated
We have updated our Plain Sailing Guarantee to ensure any guests who test positive for Coronavirus and therefore cannot travel can move their cruise to another with no administration fees. This will cover guests on any cruise up to the end of 2021. We'll hold the money for the cancellation for up to 12 months to give our guests plenty of time to choose an alternative sailing of at least the same value. All guests need to do is call us prior to departure to let us know they cannot travel. Full details can be found in our Plain Sailing Guarantee tab above.
New insurance cover
Our preferred insurance partner, Holiday Extras, has updated their policy details to include cover for coronavirus. This will support you if you become ill during your cruise with medical assistance plus repatriation costs and accommodation for you and a companion should you need it. This new policy is available to all guests who meet Holiday Extra's health criteria, including those aged over 70.

Onboard the ship
The highest cleanliness standards
The protocols we use on board follow those approved for hospitals. These involve a dedicated sanitation team who work throughout the day and night ensuring all surfaces in all areas are frequently cleaned with anti-viral solutions. We ensure these protocols are strictly followed with regular auditing using UV and swab testing carried out by our Sanitation Officer.

To maintain our high standards, our crew training will include any new industry approved processes.

We also clean your cabin with the same anti-viral solutions on each day of your cruise and each cabin is deep cleaned between guests departing and arriving. These solutions will kill bacteria and viruses including Norovirus and Coronavirus.

Specialist medical facilities
We have medical centres on board our ships managed by teams of Doctors and Nurses. We are working with Public Health England, the CLIA Medical Action Group and other UK cruise lines to develop agreed and comprehensive processes for how we isolate and treat any guests with symptoms either on board or at the destination.
Whilst ashore
Additional port options
We will continue to follow the latest advice and guidance from the UK Foreign and Commonwealth Office on which ports we visit when we start sailing again. If government advice changes about one of our planned ports of call during a cruise, our smaller ships have more options for alternative ports, which allow us to change course more easily.
Pre-approved tour partners and smaller groups 
We only sell shore tours from pre-approved partners in the country we are visiting and where we are confident they will uphold the standards required locally.

Our tours only visit attractions when our approved local tour providers are confident they are following the expected health and safety protocols.

Finally, our smaller ships allow for smaller tours and we have a capacity limit of no more than 25 guests in each shore tour group.