Fred. Olsen Cruise Lines – 2022/23 Launch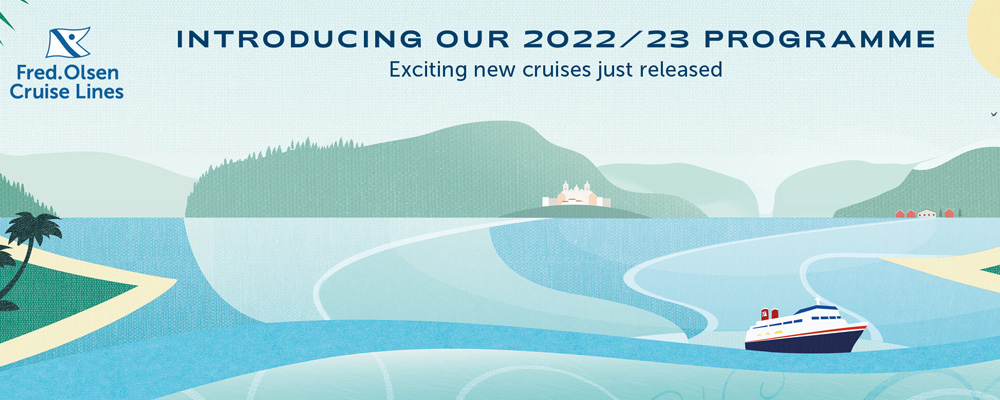 Fred. Olsen Cruise Lines are excited to launch their brand new 2022/23 cruise programme, a diverse selection of expertly planned sailings designed to not only show you some of the world's greatest regions, destinations and waterways, but help you experience them too.
You'll find closer to home excursions, including sailings around the beautiful British Isles, a range of five-day city breaks in Europe, while there are also escapes to Baltic gems such as St Petersburg. There are chances to revel in the beauty of Norwegian or Greenlandic fjords too; relax in the sunshine of the Canaries; discover the beautiful coasts and islands of the Med, and even cruise Greece's Corinth Canal. For the intrepid explorer, they've two exceptional World Cruises, including a once-in-a-lifetime journey 'Around the World in 80 Days'.
What's more, to celebrate the release of these new itineraries, they're offering their Freedom Fare Plus* benefits for you to take advantage of. Plus, if you book selected cruises now, you can choose to enjoy either a FREE Upgrade to All Inclusive Drinks or FREE On Board Spend.
On sale information as follows:
 Cruises will go on sale at 9am Wednesday 10th March 2021 for
Oceans and guests who have had previous cruise/cruises
cancelled and have chosen to keep their booking live to
transfer to another sailing at future date.
 General sale will commence at 9am Monday 15th March 2021