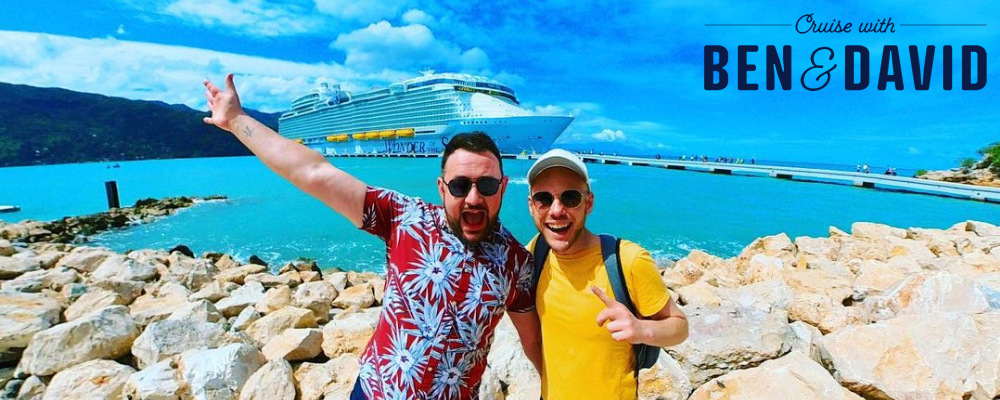 Thanks for joining us from the Cruise With Ben & Dave YouTube channel. The No.1 place for ship reviews, tours, vlogs & hacks.
A few words from Ben & David themselves…
"Ahoy there! We're cruise with Ben and David. We began cruising about 10 years ago when we were invited on board a cruise for a friend's wedding. We thought we had made a big mistake because all we could think about was the old stereotypes of cruises: Titanic, school dinners and old people! We had no idea what cruising was really like so you can imagine how shocked we were when we boarded! It was a 5 star floating hotel with everything (and more) that you would find on any land based vacation! Loads of places to eat and drink, soak up the sun, a full west end theatre and more! We were immediately hooked and booked our next cruise. I mean what other holiday can you wake up in a brand new country every single day without having to unpack and all the hassle of travel?
We decided to film a bit of a ship we were on about three years ago to upload to YouTube because whilst researching our next cruise holiday there were very few images and video to take a look at. We filmed it with an old iPhone! We uploaded the video and didn't think anymore of it but it really took off with hundreds of thousands of views so we made another video, then another and fast forward to three years later and over 25 cruises and over 200 videos on our channel. We've been so lucky to sail on so many amazing ships as well as visit shipyards and attend ship christenings with royalty!
Our main aim is to change the stereotypes of cruising and show what an amazing holiday it is. We do this by creating honest, high quality videos of every ship we sail on or visit in port. We genuinely love cruising and we are so happy to have created such a fantastic community of people who have never cruised before and seasoned cruisers. We create a range of videos from ship tours, hints and tips shows as well as vlogs where you can follow each step of our cruise adventures!
Ben is a trained camera operator and broadcast editor and has worked for the BBC and Discovery Channel. David is head of design at a company located in London. It's great to be using the skills we studied in University again! We live just north of Cambridge and have been married for over 5 years. We have 5 amazing nephews who we love to go on cruise holidays with.
We have chosen to work with Vision Cruises as they are experts in cruise holidays. They are a family run business with over 25 years experience. It is so important to us that we offer the very best to our viewers, and Vision Cruises is the best fit. We trust them to provide the best value cruise packages and holidays to our viewers and around the world with offices in the UK, Australia and the USA.
Happy Cruising! "
If you have seen a cruise you're interested in or would like some more advise then you can fill in the below form or give us a call on 0800 655 6703 and one of our friendly cruise experts will be on hand to answer all of your questions.