Arcadia Winter 2022/23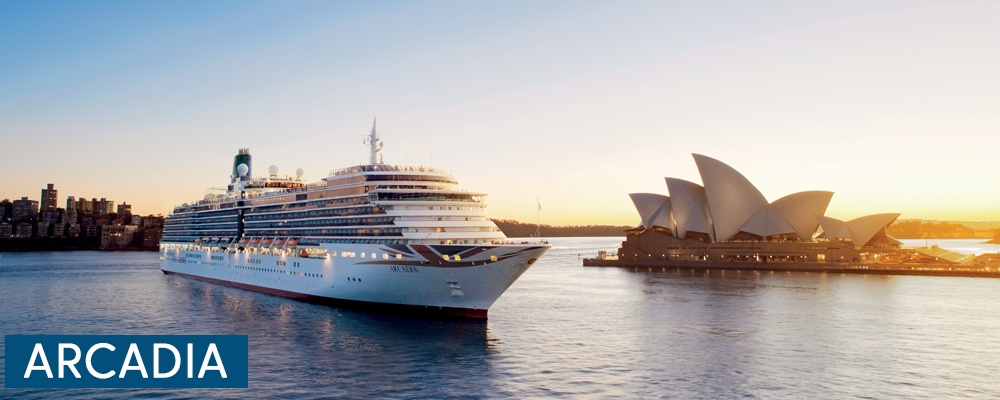 Arcadia will continue to deliver exciting destinations and regions as part of her winter programme. Itineraries have been specifically designed to include lesser frequented destinations, such as Manzanillo in Mexico, Port Stanley and Montevideo in Uruguay to entice experienced cruisers to return.
Arcadia operates a full world cruise over 99 nights, including headlining calls to Sydney, Auckland, Hong Kong and Singapore. Classic Southern Hemisphere Journeys and Exotic Fly-Cruise holidays are available for those Guests who prefer a shorter duration holiday without losing the opportunity to visit a host of iconic destinations.
| Departure Date | Ship | Nights | Itinerary | Prices From |
| --- | --- | --- | --- | --- |
| 6th November 2022 | Arcadia | 3 nights | Western Europe | £399pp |
| 9th November 2022 | Arcadia | 40 nights | UK-UK Caribbean | £2,999pp |
| 19th December 2022 | Arcadia | 10 nights | Baltic | £1,199pp |
| 29th December 2022 | Arcadia | 5 nights | Western Europe | £649pp |
| 3rd January 2023 | Arcadia | 99 nights | World Cruise | £10,499pp |
| 3rd January 2023 | Arcadia | 10 nights | World Cruise Sector - Southern Hemisphere (Southampton to Fort Lauderdale) | £999pp |
| 3rd January 2023 | Arcadia | 41 nights | World Cruise Sector - Southern Hemisphere (Southampton to Auckland) | £5,319pp |
| 3rd January 2023 | Arcadia | 47 nights | World Cruise Sector - Southern Hemisphere (Southampton to Sydney) | £5,699pp |
| 3rd January 2023 | Arcadia | 49 nights | World Cruise Sector - Southern Hemisphere (Southampton to Brisbane) | £6,249pp |
| 13th January 2023 | Arcadia | 37 nights | World Cruise Sector - Exotic Fly-Cruises (Fort Lauderdale to Sydney) | £5,919pp |
| 14th February 2023 | Arcadia | 58 nights | World Cruise Sector - Southern Hemisphere (Auckland to Southampton) | £7,599pp |
| 20th February 2023 | Arcadia | 17 nights | Exotic Fly-Cruises (Sydney to Hong Kong) | £4,599pp |
| 20th February 2023 | Arcadia | 23 nights | Exotic Fly-Cruises (Sydney to Singapore) | £3,219pp |
| 20th February 2023 | Arcadia | 52 nights | World Cruise Sector Southern Hemisphere (Sydney to Southampton) | £7,089pp |
| 22nd February 2023 | Arcadia | 15 nights | Exotic Fly-Cruises (Brisbane to Hong Kong) | £2,649pp |
| 22nd February 2023 | Arcadia | 50 nights | World Cruise Sector - Southern Hemisphere (Brisbane to Southampton) | £6,499pp |
| 9th March 2023 | Arcadia | 17 nights | Exotic Fly-Cruises (Hong Kong to Dubai) | £3,099pp |
| 9th March 2023 | Arcadia | 35 nights | World Cruise Sector - Southern Hemisphere (Hong Kong to Southampton) | £4,499pp |
| 15th March 2023 | Arcadia | 29 nights | World Cruise Sector - Southern Hemisphere (Singapore to Southampton) | £4,009pp |
| 26th March 2023 | Arcadia | 18 nights | World Cruise Sector - Southern Hemisphere (Dubai to Southampton) | £2,359pp |